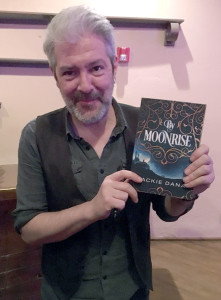 There's nothing quite like getting to thank your heroes who inspire you. For me, one of those people is Seamus Egan.
Last night I attended the 20th anniversary concert by my favorite all-time band Solas at the One World Theater in Austin, and I was able to finally share with Seamus how much his music has meant to me.
I first discovered Seamus Egan in his band Solas twenty years ago. They were on their first tour in Texas, performing for the first time at the North Texas Irish Festival. I had never heard of Solas before, and knew nothing about them. But that whole weekend everyone was saying: "Be sure to check out this new band Solas. They're incredible!"
That was an understatement.
Solas is pure magic.
Solas is a band of extremely talented and passionate musicians who perform a clever mix of timeless folk music and their own catchy tunes. Their music is so lively, powerful and genuine that you can't help but dance and smile and feel really great afterwards. And even after twenty years, while the musicians have gotten older, the magic is just as powerful today as it was the very first time I heard them.
One of the reasons for this is the musical wizardry of Seamus Egan. His music and that of Solas together has had a major influence on my writing. In fact, I have a Spotify playlist of Seamus's solo music, and listening to it helps me focus and come up with new ideas. And every time I see him perform, it really does feel like he's working a magic spell on the audience, in a way I've never experienced from another musician.
The Power of Music
Inspired by Seamus's music, one of the protagonists in my novel By Moonrise plays the flute. In the story, magic really does happen when Arric performs. (In fact, in an upcoming book Arric's flute music becomes critical to the story).
When I published By Moonrise, I really hoped to have a chance to thank Seamus for all of the inspiration over the years. And last night I got my wish. It felt great to be able to share my book with someone whose own passion and creativity had encouraged my own. And when he smiled and said no one had ever done this before, it really made my night.
So thanks Seamus, and thanks Solas (especially Winifred Horan, whose music I also dearly love). I sincerely hope you continue on for another twenty years! 🙂
---
Below are some of the photos I took from last night's show.